". . .thought-provocative, deeply curious and calmly celebratory, the magic of Mercier's words could certainly change one's life within a year."   
New York Times Best Selling Author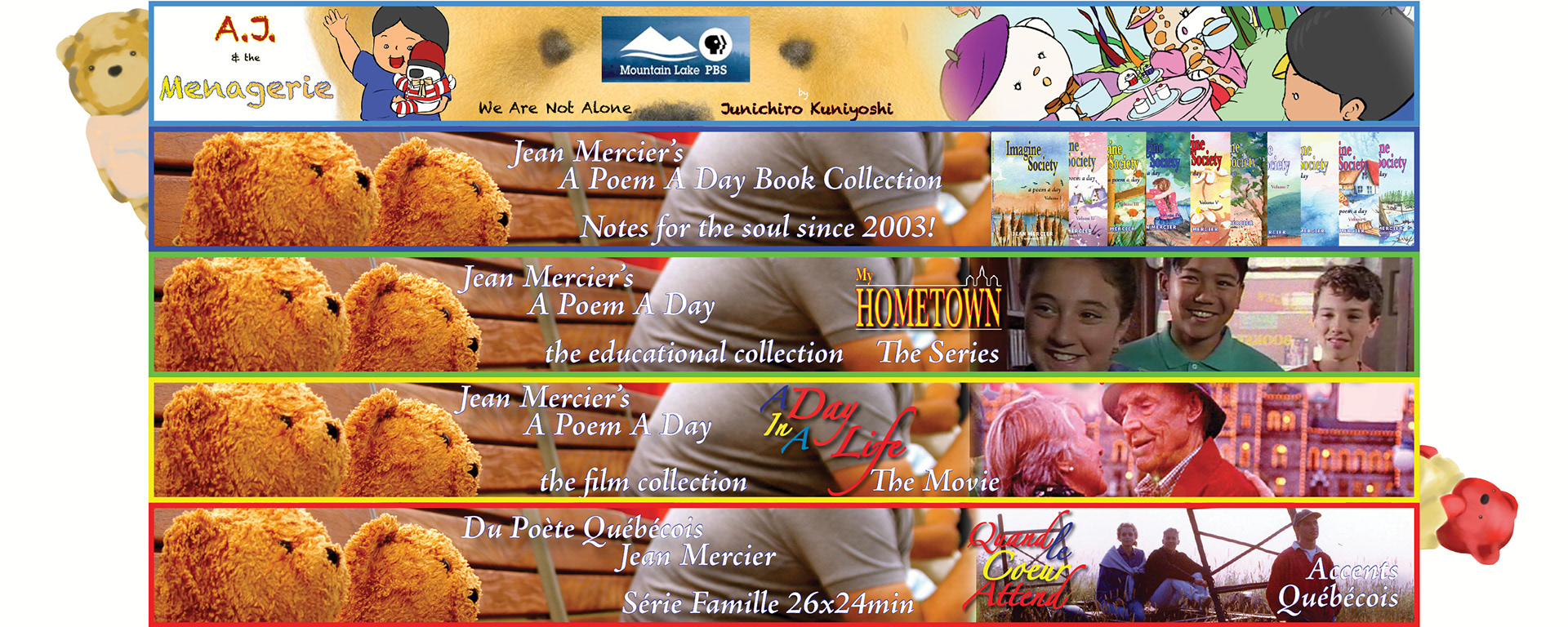 A special welcome to 
English teachers, 
students 
and friends from 
Yes, our authors Jean Mercier, and Junichiro Kuniyoshi 
can meet your class or group through a video chat!
(Skype. FaceTime, Google Hangouts, or else)
Send us a request with the form lower on this page.
Teachers and students: 
use 
our 
films and books with your group
to start discussions on many subjects! 
Enjoy any of our 160 videos 
for a few pennies a day at:
All proceeds go directly to the production 
of our new educational TV series for PBS Kids. 
THANK YOU! 
Find our work on AMAZON or PRIME VIDEO
​​​​​​​
Used in schools and libraries everywhere!
Every episode hides a twist set to steal your heart! 
Our films are also available to buy or rent on VHX at:
". . .sometimes, less is more. 
Jean's poetic mirror is the creative catalyst that can truly change your life! 
One merely has to read and listen. Exquisite, portraits in verse!"             
Former VP, YTV Canada, Programming and Production

10 Books, 3660 love notes
and FREE with Kindle Unlimited!
​​​​​​​​​​​​​​
Use them in class!
You want our 12 books collection in print?
ORDER DIRECTLY FROM US and
Teachers and students can use our books in the classroom!​​​
​​​​​​​​​​​​​​

Watch for our new series soon on television (PBS KIDS) 
Books Free on Kindle Unlimited!
"Extremely endearing an
d thoughtful,
this book will steal your heart." 
"A beautiful novel to grow up with." 
"Even as an adult, it is a page turner." 
"Everyone should keep a copy nearby."
***** 5.0 out of 5 stars! 
by Japanese writer Junichiro Kuniyoshi thanks to Mountain Lake PBS! 
​​​​​​​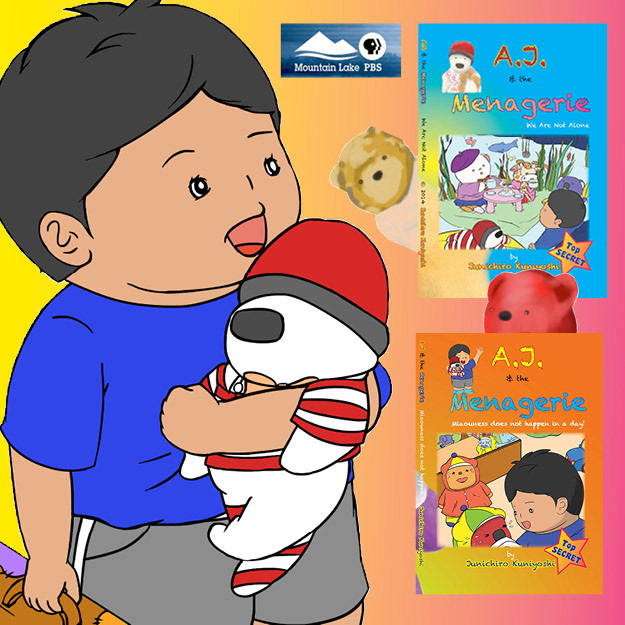 more links for
MY HOMETOWN series (40 x 24' episodes) 
on AMAZON PRIME VIDEO and FireTV!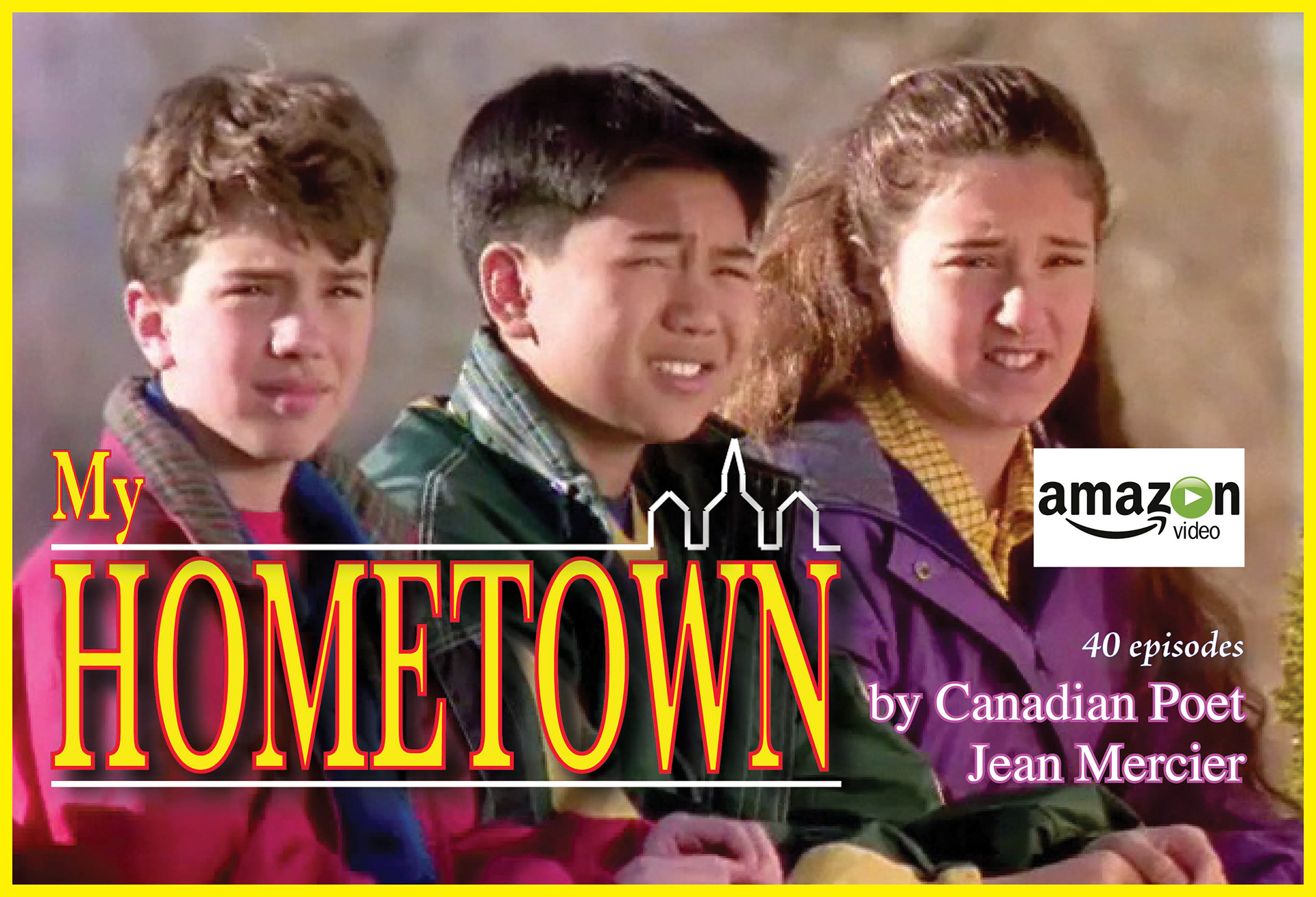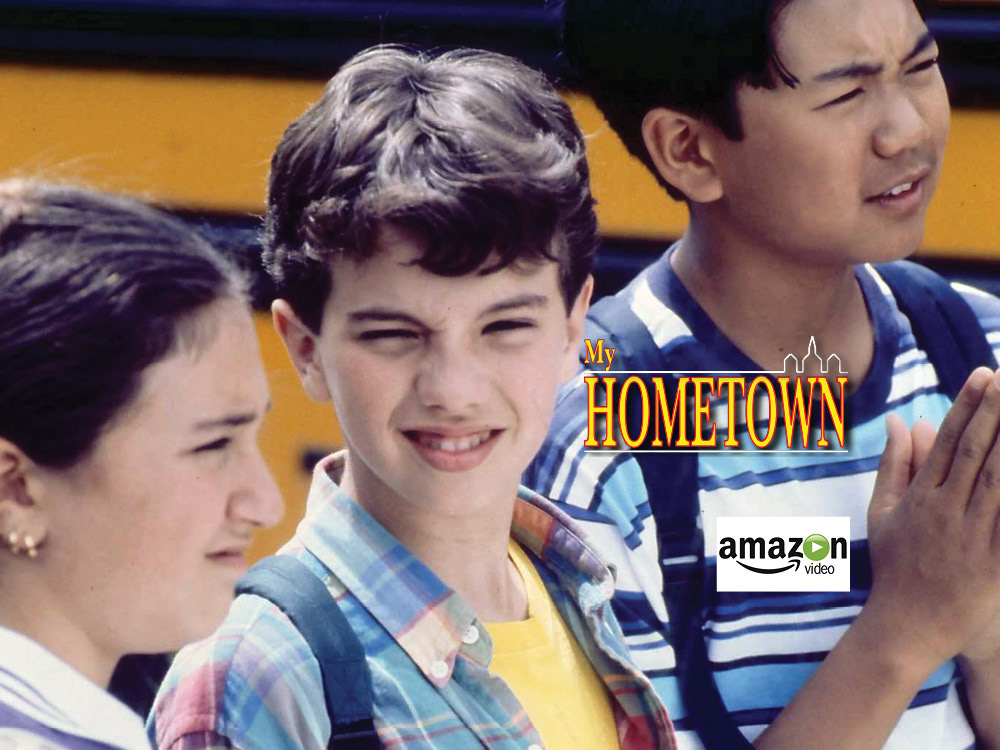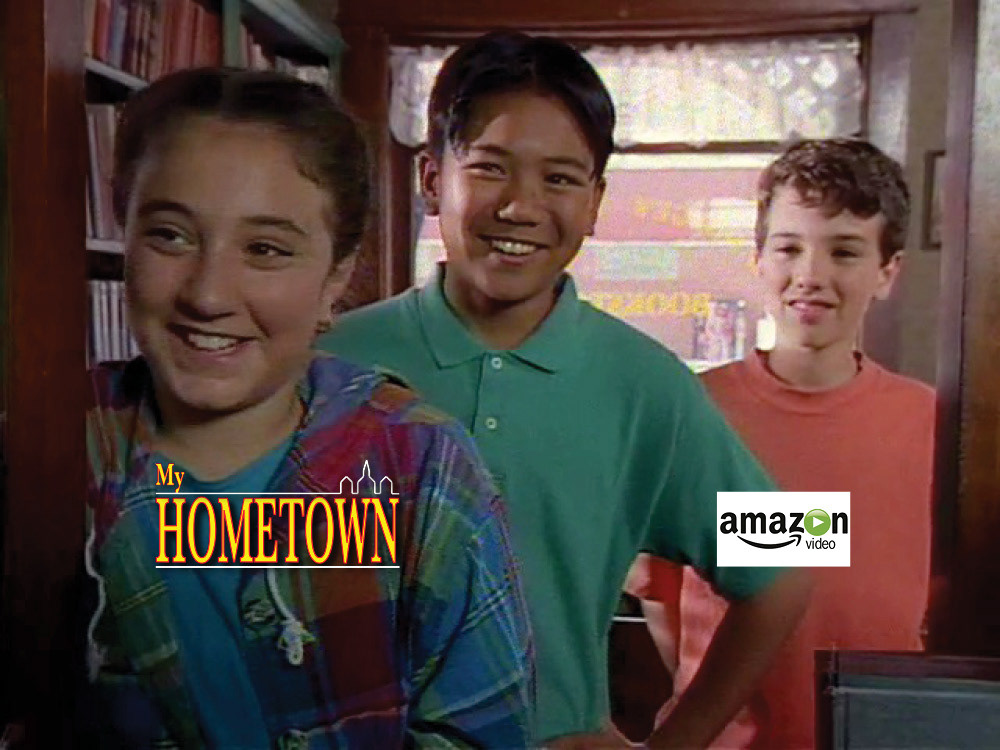 ALSO AVAILABLE:
Find our beautiful TV movie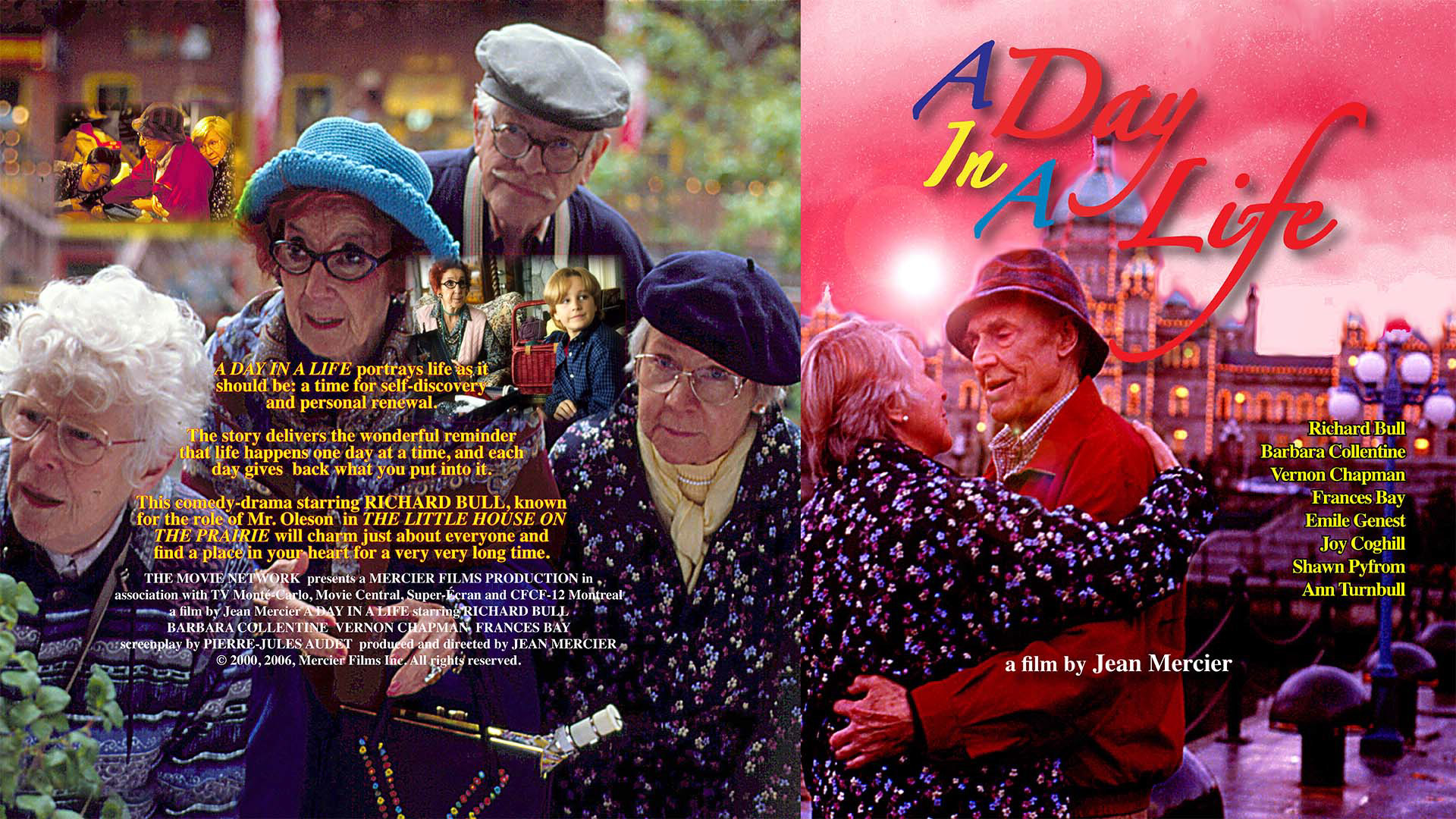 JEAN MERCIER's writings, films and series have been seen in more than 50 countries to date. 

With the new series "A.J. & The Menagerie" based on the work from Japanese writer and illustrator Junichiro Kuniyoshi, and currently developed for PBS is association with Mountain Lake PBS (NY), among his many clients and broadcasters, we find: Disney Channel (Australia and New Zealand), RTVE (Spain) Télévision Monté-Carlo, Canal+DA and Studio Canal, Lagardère TV division, AB Television (France), YTV, TVA, TV Ontario, TFO (French Network), The Movie Network, Super-Écran, The Knowledge Network, Movie Central, Moviepix. Bravo, Ciné-Pop, CFCF-12 Montreal, and The Latino Network (Canada), the Israëli Broadcasting Corporation (Israël), Beta Taurus (Germany), B SKY B (UK), and the GoodLife Network, the UEN or Utah Education Network (US). 

The productions of Mr. Mercier have also been distributed in Japan through courses of English as a second language with the Global Learning Channel of Sky Perfect TV, in Korea via EBS (Educational Broadcasting System), Greece, Cyprus, Turkey, Indonesia, the Philippines, Bopthuswana, in every country from the Arab World and many other territories from Eastern Europe like the Ex-USSR, Poland, Slovenia, Belarus and Hungary.

Some of his titles are also currently available on demand with Amazon Video 

Mr. Mercier also produced a few music CDs from the soundtracks of his films. He spends most of his time writing and developing new projects.

He studied in the Film Production Program at the Faculty of Fine Arts of Concordia University in Montreal.

Jean Mercier is Canadian, born in 
La Tuque in the Province of Quebec in Canada and he now lives in Montreal.​​​​​​​
He spends most of his time writing to develop new projects.
Yes we can meet your group in person or through SKYPE! Contact us now!
You can also help us keep going!
THANK YOU FROM THE BOTTOM OF OUR HEART!
We would like to thank our financial partners: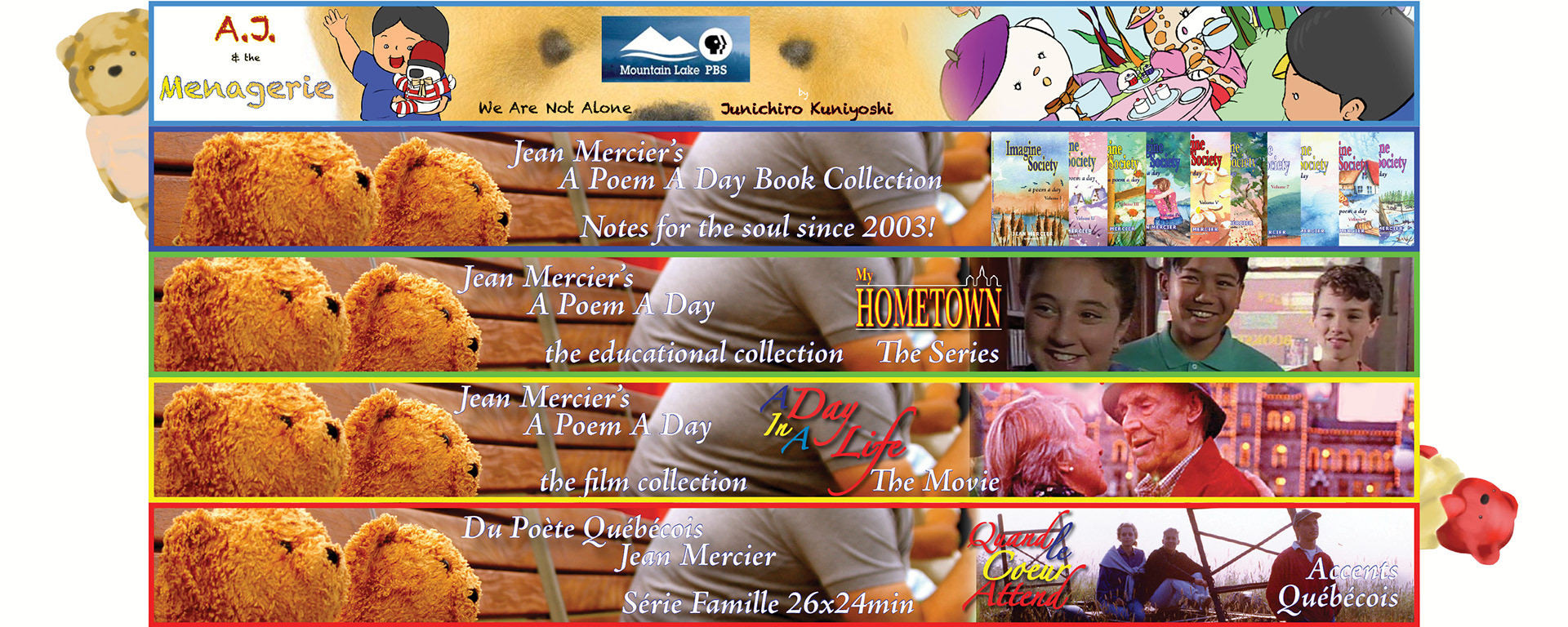 Question? You can contact us with this form: