Sustain your PBS Television in the community 
and 
we will thank you with an all-year round 
corporate television presence on PBS.
We can even take care of everything for your TV spot. 
😎​​​​​​​😍🙃​​​​​​🙄​
We need you especially right now to keep us going!
Thanks to people like you, SESAME STREET came to life with PBS! 
JOIN US AS WE PUT DOWN WALLS 
IN GIVING A FAIR CHANCE TO EVERYONE!
Half of MLPBS supporters are Canadians!
Mountain Lake PBS is a non-profit TV station!
​​​​​​​
See the current opportunities of partnerships
for less than a few cups of joe! 
😍🙄🙃😎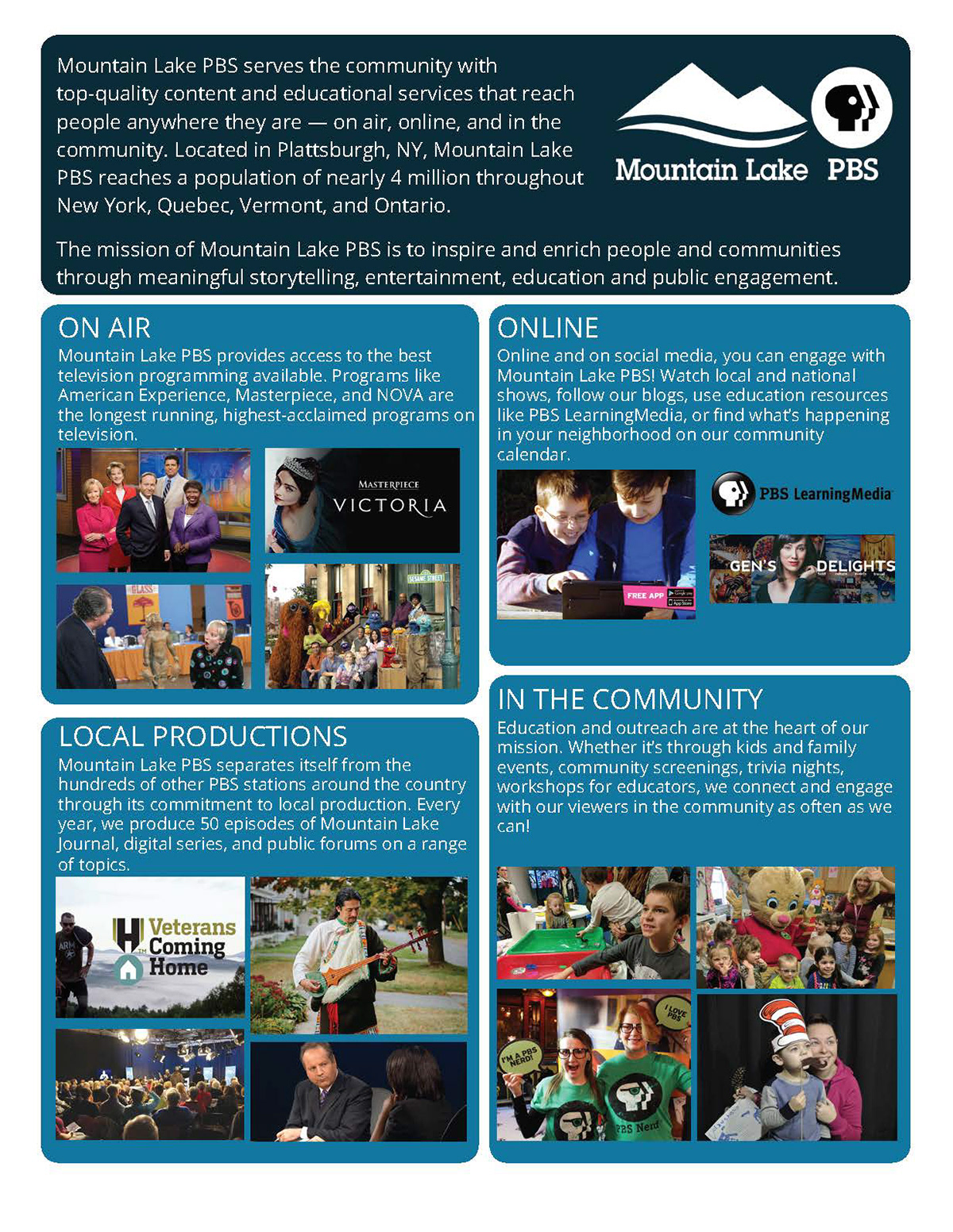 Highly satisfied of the ROI, our corporate underwriters 
often stay with us for years while they are also helping 
to produce the best television for kids and families!
reaching up to 3,9 M viewers 
+ many through simple antennas (no cable) as well
in Quebec, Ontario, New York and Vermont.
Ask me any question, I am here for you. 
Jean Mercier,
Corporate Marketing Representative

Underwriting is a mutually beneficial partnership between you and Mountain Lake PBS. Simply put, underwriting is a non-commercial sponsorship of programs or events. This helps marketing for your company and also puts out new information into the community.
By associating your organization with Mountain Lake PBS, you'll put your brand in front of an intelligent, appreciative audience that values public media sponsors because PBS ranks #1 in public trust.
You may claim your underwriting expense as a charitable donation. You'll have final approval over your script and spot, and when it's complete, it's yours and we'll send you a copy. Use the spot however you like.
WHAT'S NEXT?
Let's talk!
Help us to bring these 
family educational series in your area too!
Coming soon to Mountain Lake PBS!